Dear friends & jamily,
Three years ago we started the fan community Pearl Jam Nordic. We have put a lot of hard work, blood, sweat, tears and money into getting this fan community to where it is today.
In less than three years we have gained 10,000 followers on Facebook, arranged events and meet-ups, travelled the world, met a lot of beautiful people and had a lot of fun.
However, sadly we have lost access to our Facebook page. To say that we are devastated is an understatement.
But we're not going to let this bring us down!
And that is why we have decided to start over again from scratch! As of today we are relaunching PEARL JAM NORDIC on www.facebook.com/pearljamnordicofficial

We have a brand new smoking hot logo designed by the incredibly talented tattoo artist Chicho from Tigre Tattoo Parlour in Copenhagen. It is ready to go onto t-shirts, totebags and stickers. We will have some giveaways with some AMAZING PRIZES to celebrate the new and fresh PEARL JAM NORDIC!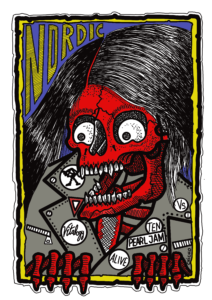 So please join us (again) and take part in the fun. Please help spread the word. This community means the world to us, and we would be so happy to stay in touch with all of the great people that we have met and brought together through this community.
We can't wait to see you on tour around Europe this summer!
Peace & love to you all,

Cecilie & Pernille
PEARL JAM NORDIC