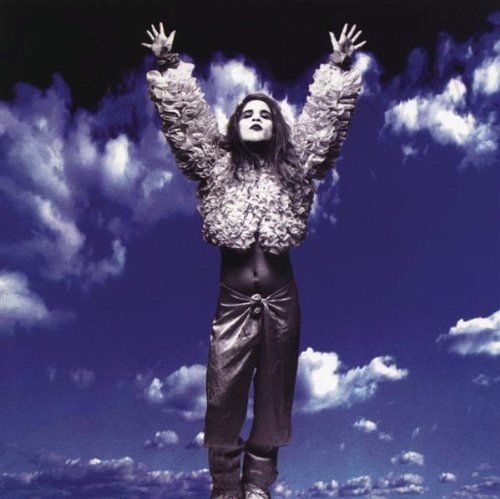 In 2020, we celebrate three whole decades of Pearl Jam. But March 19, 2020 also marks the 30th anniversary of Andy Wood's death. Aged just 24, the Mother Love Bone frontman died of a heroin overdose right before his band's debut album Apple was released and was promised to shoot the band to stardom in the early grunge days. Surviving bandmembers Stone Gossard and Jeff Ament decided to start over with a new band, that would later be known as Pearl Jam. The life and death of Andy Wood are therefore important to how Pearl Jam was created and maybe even how the musical landscape of the early 90s was drawn.
This article is a big fan's portrait of Andy Wood and a discussion of what might have happened, if history had been different.
Early life and Malfunkshun
In 1966, Andrew "Andy" Patrick Wood was born on January 8 – a birthday he shares with legendary musicians like Elvis Presley, David Bowie and The Doors' Robby Krieger. Together with his parents and two older brothers Brian and Kevin, Andy grew up in Columbus, Mississippi, until the family moved to the colder and wetter Bainbridge Island, Washington, before Andy was a teen.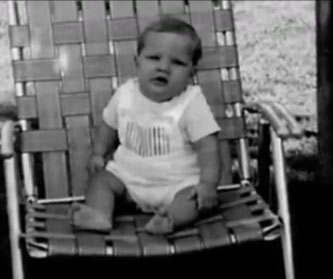 From a very early age, Andy liked performing. He wanted to be country singer Glen Campbell, and at the age of three, he created his first little song for his father, who was serving in Vietnam. When Andy got older, he wanted to be a rock star, so he kickstarted an appropriate lifestyle by committing minor crimes and smoking pot at the age of 12. He and his brother Kevin started jamming together – Kevin on guitar and Andy on bass and vocals – and around 1980, they teamed up with local drummer Regan Hagar and formed the band Malfunkshun.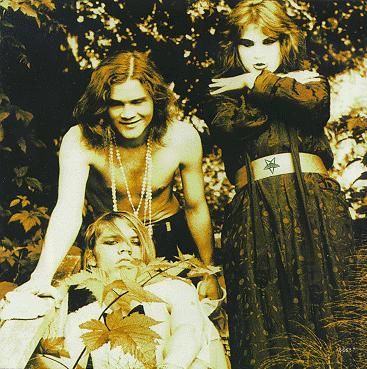 Inspired by performers and musicians like KISS, Freddie Mercury and Elton John, Andy created his own stage persona. He named himself Landrew The Love Child after the character Lando Calrissian in the Star Wars movies, a name he also presents in Malfunkshun songs like My Only Fan and Shutgun Wedding.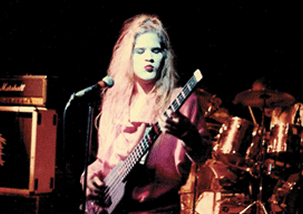 As Landrew, Andy often dressed in drag – sometimes even sexy lingerie – put on white face painting and talked back at rude people in the crowds. He was energetic, funny, charismatic, and he treated his concerts like big arena shows, despite not many people showing up. But he did have a fan in a young man named Kurt Cobain. Kurt went to a Malfunkshun concert, where he sat in a chair in front of the stage pretty much asleep – until he woke up mid-set very confused, because Andy was singing to him and dancing around him.
Malfunkshun's genre and characteristics can be called a mix of falsetto glam rock and punk with some piano and a charming, nasal, crispy voice. Andy himself called it a T. Rex, KISS kind of a band, but he also invented a new label for his band and all his future music: love rock. Some of Malfunkshun's songs were funny and energetic and fitted their wild and hilarious shows like The Words Of Love. But love rock was also sad, tragic and beautiful songs like Region and the almost eight minutes long Winter Bites, which tell stories of failing love and self-loathing.
The band recorded a demo album called Return To Olympus, but the producing and release of the album got on hold. In 1986, Malfunkshun was released for the first time by participating on the compilation album Deep Six alongside young grunge bands like Melvins and Soundgarden.
Despite just being a sports-loving, video game-playing teenager in his Malfunkshun days, Andy had very heavy drug problems, and at the age of 20, he started rehab for multiple drugs and marijuana. His therapist learned, that Andy had very difficult relationships with both an alcoholic, dysfunctional family and his former girlfriends. These relationships had taught him that love had to hurt, but he had also learned to be funny and put on a show to avoid talking about serious issues. One of Andy's childhood friends once said, that Andy performed every time he communicated, even just talking to a shop clerk – and maybe all that cover up performing practice through his difficult life was also what made him such an amazing and exciting frontman.
Mother Love Bone
Neither the drugs nor rehab kept Andy from being creative. Around 1987, he slowly left Malfunkshun to team up with guitarist Stone Gossard and bassist Jeff Ament from the Seattle band Green River, guitarist Bruce Fairweather and drummer Greg Gilmore. They started a band called Lords Of The Wasteland, which was quickly renamed Mother Love Bone.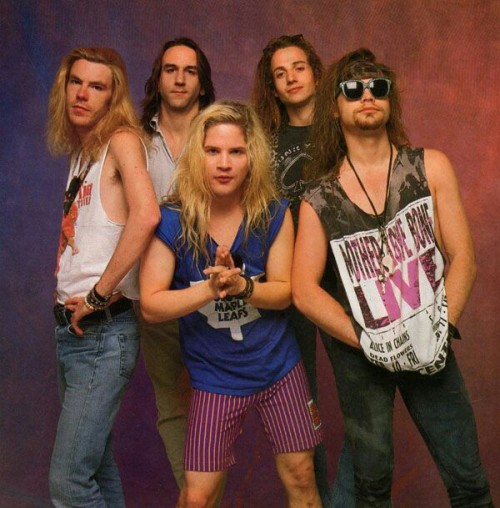 Andy once said, that Mother Love Bone was a spin-off and a better version of Malfunkshun in his mind, though Mother Love Bone was faster and lighter, more glammy and with much more piano. Like Malfunkshun, Andy also categorized his new band love rock, and the term got immortalized on their song Holy Roller, where Andy like a prophet almost warns: "Love rock awaits you, people!".
And it did. Mother Love Bone got very hyped in Seattle, where they were considered one of the most popular groups in the Northwest, and magazines predicted them to become the next big thing. They got signed by PolyGram, started writing music for their debut album Apple and also began performing concerts, where Andy rocked out and threw around his long, wavy, bleached hair.
Andy wrote all the band's lyrics, while he often shared the composing of the melodies with Stone. Stone's musical creations were mostly catchy, fresh and full of life like the kick-ass album opener This Is Shangrila, Stardog Champion and Capricorn Sister. Andy's melodies were more quiet, melancholic and sometimes even depressing like Man Of Golden Words, Gentle Groove and his six minutes long signature song and album closer Crown Of Thorns. When the lyrics weren't funny, goofy or even dirty (they made a song called Half Ass Monkey Boy …), they mostly depicted dark and difficult feelings like anxiety, self-destruction, indifference and love in many forms. In Come Bite The Apple, the narrator even compares his situation to biblical catastrophes and maybe knowingly also predicts Andy's tragic fate:
So come bite the apple, I'm run down
Like Sodom to Gommorah, all dead now
So please stop to laugh and pity me
My soul means well but I'm sorry
My skin it is withered and I'm nervous
My future was in my hands till I washed it all away
Andy also wrote lyrics to a song called Dollar Short, which Stone had composed. It is not known, whether the lyrics were sad or funny, because the song didn't make the cut on Apple. But a couple of years later, it was revived, got a new name and became the Pearl Jam debut single and smash-hit known as Alive.
In the late 80s, Andy still went to rehab a couple of times. One time he came out, he met two very important people. First Regan found a tall girl for him called Xana La Fuente in a mall, and she ended up becoming Andy's girlfriend, though they had an abusive relationship. Andy called her Stargazer and wrote a Mother Love Bone song of the same name about her. They later got engaged.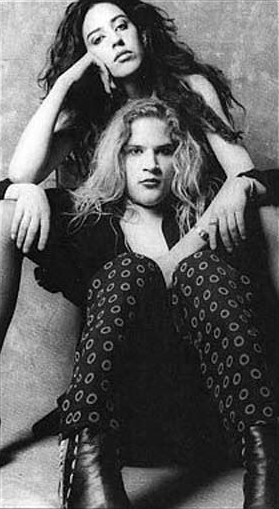 Around the same time Andy met Xana, Stone put him in contact with Soundgarden singer and guitarist Chris Cornell, who needed a roommate in his house. Fearing that he had to move back to his parents, Andy moved in with the supportingly sober Chris, and a great bromance was born. It was such a strong friendship, that Xana joked, that Andy and Chris would have been in love, if one of them was a girl. The boys hung out, wrote and recorded songs parallelly and gave each other feedback on the songs, which they realized they created in very different ways. Despite their friendship, they didn't write much music together, and when they did, it was unfortunately deleted. The only known and available collaboration is Island Of Summer. Chris of course never forgot the time he lived with Andy, and many years later he stated, that Andy was the only real rock star he ever met from that era, and he made others believe that they could be rock stars too.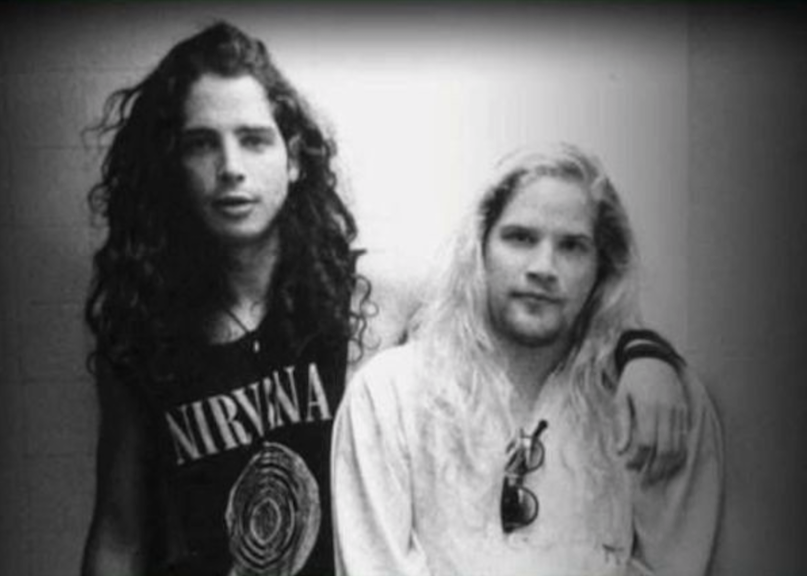 The hyped Mother Love Bone released an EP called Shine on March 20, 1989. They kept on recording for Apple in Seattle and California, and it was scheduled to be released in April, 1990. After the release, Mother Love Bone was planned to go on a big tour, and in an interview, Andy epicly promised with a big smile: "I want the world to know that Mother Love Bone is coming to take over the world, a plethora of delights, a fruit salad compote of delights". He really dreamed of big arena concerts for the future, but the band had issues and problems. The five young members couldn't agree on anything and they all wanted things to be done in a certain way, which was rarely possible. So Andy made a bunch of songs for himself, and in an interview he said, that he had too many songs for years. They were mostly piano centered and therefore not that Mother Love Bone friendly, so he considered making a solo album and do things his own way.
Death
Andy kept what he called a drugalog, where he wrote down all the drugs and alcohols he had tried and done each year of his life from 1973 to 1990. By the age of 15, he tried acid and mushrooms, and at the age of 20, cocaine and heroin also got into the picture and never left. So Andy went to rehab again in 1989, but it didn't help. According to Xana, he begged her to help him stop, because he hated himself when he was on drugs. Xana realized she was the only one he had, because his family didn't want to hear about his drug problems. But she didn't know how to help him.
In the morning of March 16, 1990, Andy had plans to go to the gym with Jeff, but he called Jeff and cancelled, because he didn't feel so good. Later in the night, Xana came home from work a couple of hours later than usual, because she had given some co-workers lifts home and had run some errands. She would come to regret that deeply, since she found Andy's lifeless heroin overdosed body on the floor. At 10.10 pm she called 911, and Andy was put on life support and brought to the hospital. Family and friends surrounded him for the next couple of days, where he first showed some improvement, but later got much worse. Chris, who was in Europe on tour with Soundgarden at that time, hurried home to see him, Xana even made sure, that Andy was kept alive until Chris arrived. Andy was declared brain dead, and on March 19, 1990 at 3.15 pm, his life support was turned off and he returned to Olympus at the age of 24.
Andrew Patrick Wood was buried in Miller-Woodlawn Memorial Park in Bremerton near Seattle, where he shares a gravestone with other people.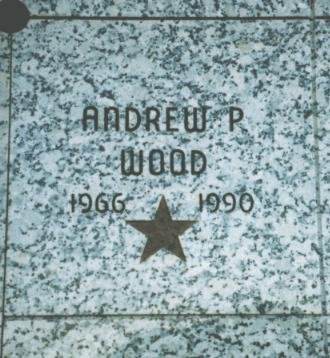 Aftermath
After Andy's death, Mother Love Bone's debut album Apple's release was postponed, and instead the album was released on July 19, 1990, where it was also dedicated to Andy. The rest of the band decided to split up, because they believed it wouldn't be the same without Andy's personality and talent. In the Autumn of 1990, Stone and Jeff formed Pearl Jam with Eddie Vedder, Mike McCready and Dave Krusen.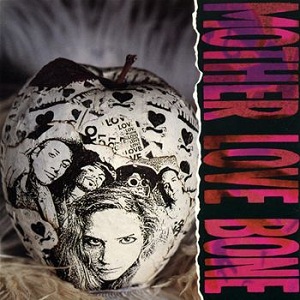 Chris called Andy's death the death of the innocence of the music scene, and he formed a tribute superband with Stone, Jeff, Mike, Matt Cameron and Eddie as a guest vocalist. The band was named Temple Of The Dog after a line in the Mother Love Bone song Man Of Golden Words. They released a self-titled album in 1991, and 25 years later they went on a mini tour in the US and performed both their own songs, Mother Love Bone songs and covers.
In 1992, fellow Seattle band Alice In Chains wrote a song called Would? about their late friend Andy. The song is now known as one of the band's greatest hits, if not the greatest.
Malfunkshun released their album Return To Olympus in 1995, and it has become a rare cult classic among grunge and Andy Wood fans. The band still exists with Kevin Wood as the only original member, and sometimes they tour the West Coast of the US, last time in 2018.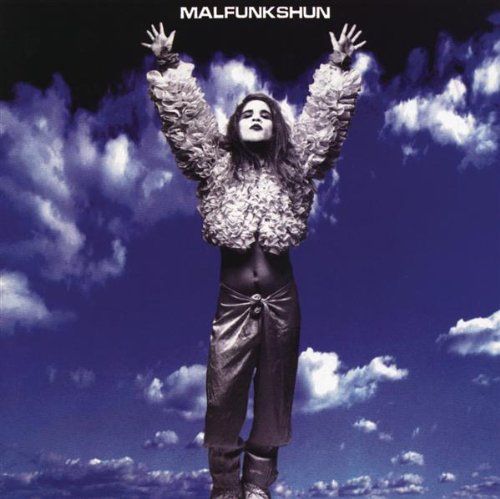 Xana has married a new man and has kids and grandkids.
Eddie has great respect for Andy, and on Pearl Jam's 10th anniversary in October, 2000, he and the rest of the band gave Andy the arena show he dreamed of. The band played Crown Of Thorns for the first time in Las Vegas, and the crowd sang along loudly. In 2018, a statue of Andy was put in the Museum of Pop Culture (MoPOP) in Seattle in relation to the Pearl Jam: Home And Away exhibition, telling the story of how Andy and Mother Love Bone are a big part of Pearl Jam's history.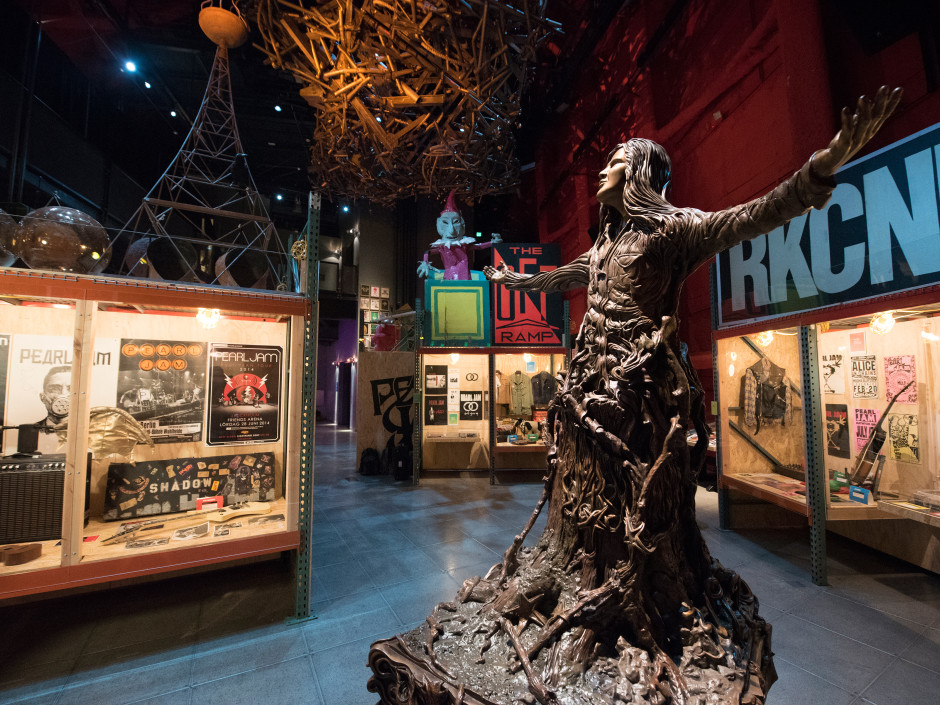 How important was Andy?
One of the most common and logical sayings regarding Andy is, that Pearl Jam would never have existed if Andy hadn't died, because Mother Love Bone would have continued. In this case, Apple would have been released in April, 1990, which means it would be almost 1.5 years ahead of the release of Nevermind by Nirvana. If Mother Love Bone lived up to the hype and really took over the world as Andy promised, it is possible that Apple would have had a chance to overshadow Nevermind. This means that Mother Love Bone could have been the world famous and popular rock stars from Seattle instead of the unwillingly grunge promoting Nirvana. Then Nirvana would have been more overlooked and not as successful and popular – which means Kurt maybe wouldn't have felt the pressure of being famous, which could even have prevented his suicide. Eddie would never have been contacted by Stone and Jeff, so he would possibly have stayed in San Diego or somewhere else with sun and great waves, because he loved surfing. Because of his talent and charisma it is possible, that he would still have had a musical career, but it might not have been related to Seattle or grunge.
But if Nirvana wasn't extremely popular around the world, they couldn't have paved the way for other grunge bands, so grunge may not even have been a real or well-known genre anyway. Instead it is possible that Mother Love Bone's love rock – which can be characterized as a bridge from glam rock to grunge – would have inspired new bands and had been the popular genre of the early 90s. Seemingly happy, funny and charming characters like Landrew The Love Child would have been cool and fashionable. Lingerie and pink cowboy hats for men would have been hip instead of flannel, Doc Martens and dirty hair. And grunge bands like Nirvana, Soundgarden and Alice In Chains would have been more underground and less well-known, at least until Mother Love Bone's hype and popularity wore off.
Because since the boys in Mother Love Bone had a lot of disagreements, it is also possible, that they would have broken up shortly after their debut album was released and their big tour was over. Then Pearl Jam could have been formed with Eddie anyway, and Andy could have joined a third band or gone solo. With his love for the piano and flamboyance, he could have been some kind of humoristic Elton John type who drew the seated crowds in theatres. Then grunge would have been a big thing anyway, but maybe a year or two later than it was in reality.
But what if Andy never existed? Would Pearl Jam have been possible without him? If we look at Andy and Eddie as frontmen, they are very different when it comes to both singing styles, musical preferences and expressions. Since Mother Love Bone had a hard time agreeing on anything, it is very possible that some of the problems were that the guys were too far away from each other creatively. That Andy was too different from Stone and Jeff, who wanted to go more rock than flamboyance and sad piano songs. And maybe that made them more aware of, what they were looking for and not looking for in a new bandmate, when they gave Eddie a chance. It is also very possible that being in Mother Love Bone in general matured Stone and Jeff and prepared them for what was coming in Pearl Jam. Being in a band with a lot of arguing and creative differences may have taught them how to be good bandmates and sacrifice. Because when the guys started Pearl Jam, they were in their early to mid-20s, but they were already experienced musicians and bandmates and knew how to make room for others and kill some darlings. And that may be a reason why we can now celebrate Pearl Jam's 30 years without a single break.
But today also marks the deathday of a very talented musician and human being who didn't really get his chance because of his demons. But at least the world was blessed with a part of Andy's talent. So turn up the volume today and listen to the man of golden words – 'cause love rock still awaits you, people!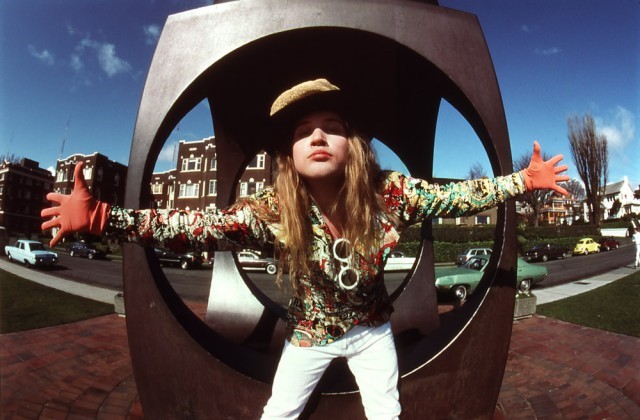 Pearl Jam Nordic doesn't own any of the photos or videos, which are all taken or recorded by unknown photographers.
References
Books
Crowe, Cameron & Pearl Jam (2011). Pearl Jam Twenty. Simon & Schuster.
Sneum, Jan (1995). Politikens Rockleksikon. Politikens Forlag.
CDs
Mother Love Bone (2016). Mother Love Bone: On Earth As It Is: The Complete Works. Monkeywrench Records.
Films
Barbour, Scot (2005). Malfunkshun – The Andrew Wood Story. Universal Pictures.
Crowe, Cameron (2011). Pearl Jam Twenty (PJ20). Monkeywrench Inc.
Morgen, Brett (2015). Kurt Cobain: Montage of Heck. Universal Pictures.
Videos
Web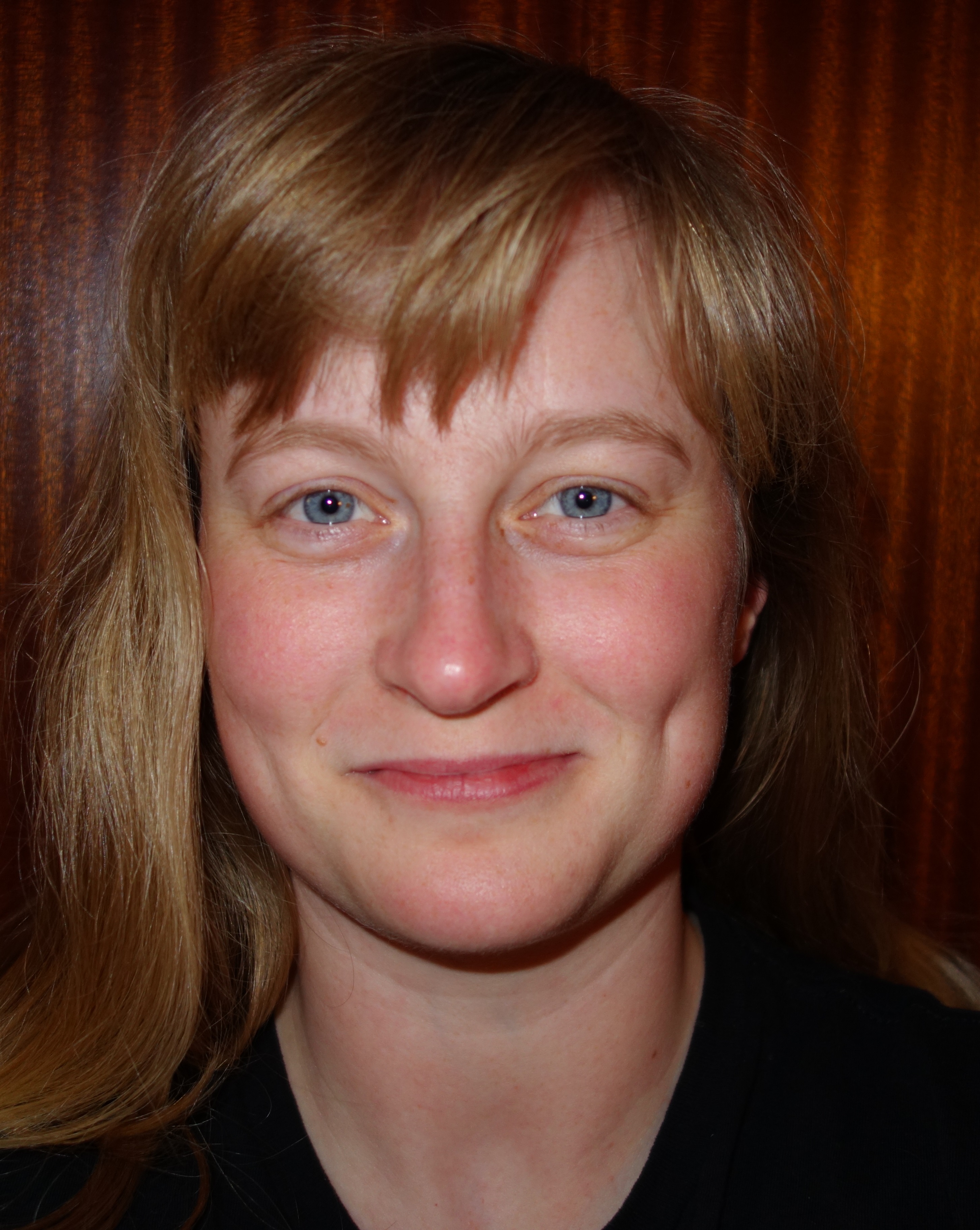 Danish contributor to Pearl Jam Nordic. Fan of Pearl Jam since 2015 where I saw the documentary Nine Rocks and heard Pearl Jam's music. I later wrote my master thesis about Nine Rocks and Henrik Tuxen's book In Pearl Jam's Footsteps. I have attended a couple of Pearl Jam and Eddie concerts around Europe, but can't wait to participate in more!