Danish fan Sofie went to see her second ever Eddie Vedder concert in Berlin – which was amazing, of course! Though she travelled to Germany alone, she ended up hanging out with many (new) Pearl Jam friends – and went on a little treasure hunt around town to try to meet Eddie.
After a night of meeting and drinking with other Pearl Jam fans, I met my Norwegian friend Cecilie in front of Hotel de Rome in the morning of the day of the concert. We waited for Eddie to come out for 4,5 hours in the burning sun, but nothing happened. A couple of friends showed up and kept us company for a while and we also talked to two German guys who also waited for Eddie. At noon, I got a tip that Eddie was at The Ramones Museum, and Cecilie and I got a cab – but when we got there, Eddie had already left the building. Cecilie and I hung out and got something to drink in the tiny, but awesome café/museum and the two German guys showed up too and joined us.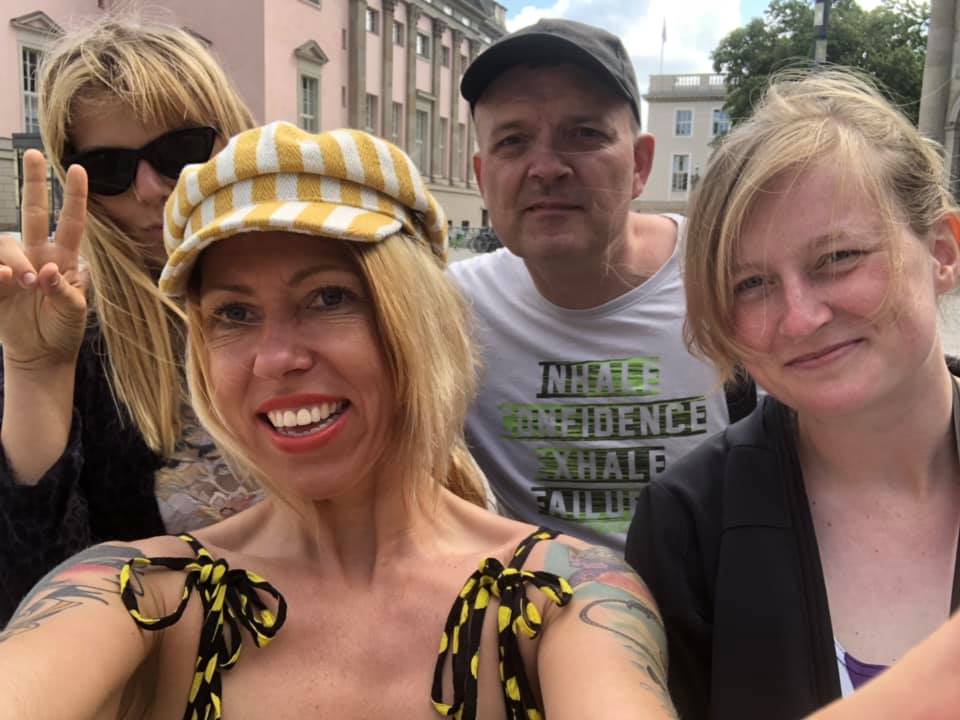 Afterwards they kindly gave us a ride while telling us about that time they met Paul McCartney. We got to Max-Schmeling-Halle, where we were in line for the merch for 1,5 hours while sweating like pigs in the sun. Later one of our new German friends told us that someone told him, that Eddie HAD been at Hotel de Rome a couple of hours after we left and met some fans there. Bummer!
After getting our merch, Cecilie and I hung out in the grass in a nearby park with some other friends from the Pearl Jam Nordic community. We compared our Ten Club tickets, and one of the guys had got first row! As a relatively new fan with little money, I was the only non-Ten Club member, but I was going to have my first Ten Club experience that night and was very excited to find out, where I was seated.
But like many others that evening, I was disappointed. My seat was not on the ground floor, but on the left side on the middle tribune. But it would still be the closest I had ever been to Eddie. This time I could at least see and recognize peoples' faces on stage.
Support act Glen Hansard suddenly went on stage for what felt like a short warm-up concert, though he played seven songs. People talked a lot during the concert, but paid attention and cheered when he almost destroyed his fingers on his guitar during When Your Mind's Made Up. Later he sang Grace Beneath The Pines, which he dedicated to activist Greta Thunberg.
He stood up on a gearbox, played no instruments, and he barely used his microphone, so it was a quiet performance, but still an impressive and powerful song. The audience started hushing on each other, which could be heard everywhere in the venue during the song. Glen also dedicated a song to immigrant workers, which I remember he did in Berlin two years prior too.
After Glen's concert, white dressed roadies came on stage among an old school tape recorder and a mannequin with bowling pins on her head. Shortly after, the Red Limo String Quartet got on stage and played the first verse of Even Flow as an introduction. Eddie came out, showed off his dimples and waved with his notes in his hands. Suddenly I felt really good. The disappointing 4,5 hours outside Eddie's hotel, my itchy sunburns and the annoying talking around me didn't bother anymore and I relaxed, loved my life and knew I would have an awesome night because of that one guy on the stage. Not many people – even musicians – can make you feel like that just by walking into a big room that is already pretty full.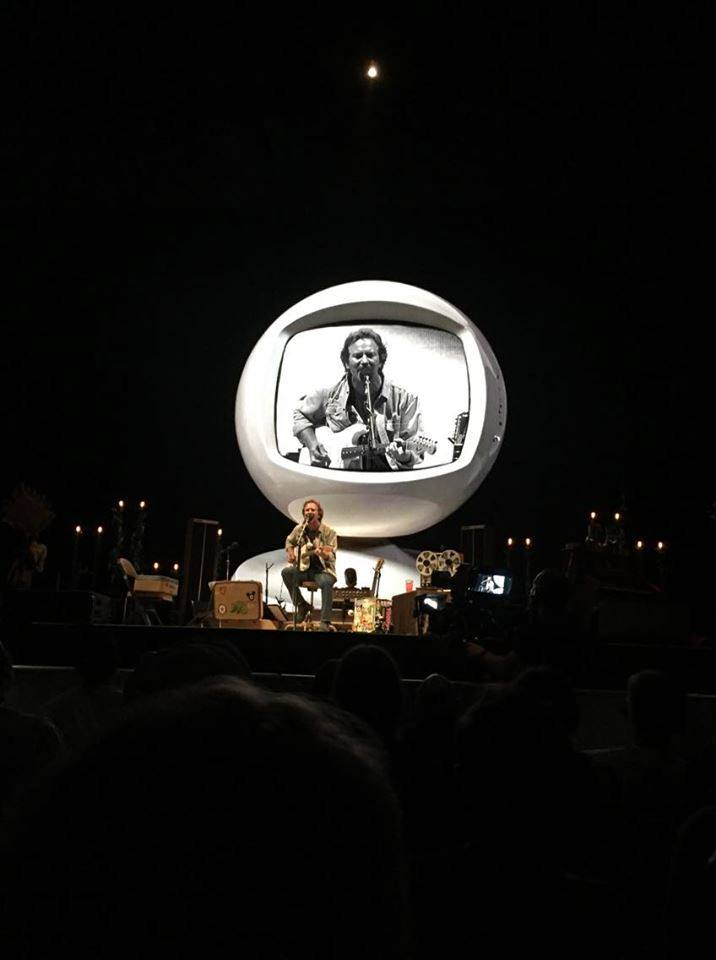 By tradition, Eddie spoke the local language, which I understood some of, though I am not a good German speaker myself. He told us, that despite being in Berlin last Summer, he still missed the city and the inhabitants. It was his 32nd time in the country, and still he was a bad German speaker. Those statements were rays of Liebe he shot at us, and we shot them right back at him by cheering as loud as we could, though a lot of us were not even from Berlin or Germany. Eddie also said that the world is a bad place these days, and the Earth gets hotter and hotter, but at least for the next couple of hours we were going to have a good time together. Everyone agreed with him and the concert began.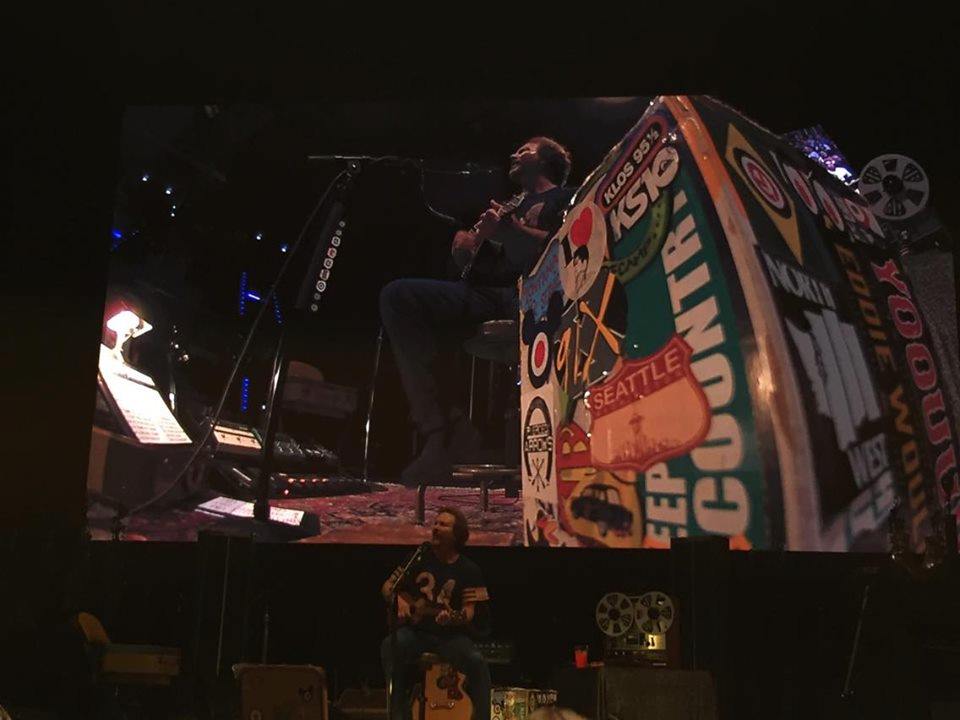 His 28-song set primarily consisted of Pearl Jam songs. The rest were covers and only two solo songs, if you don't count Society as written by Eddie. The first song he played was his own Far Behind and the audience almost stomped the rhythm, like they had been waiting for too long, which is of course always the case with Pearl Jam related experiences.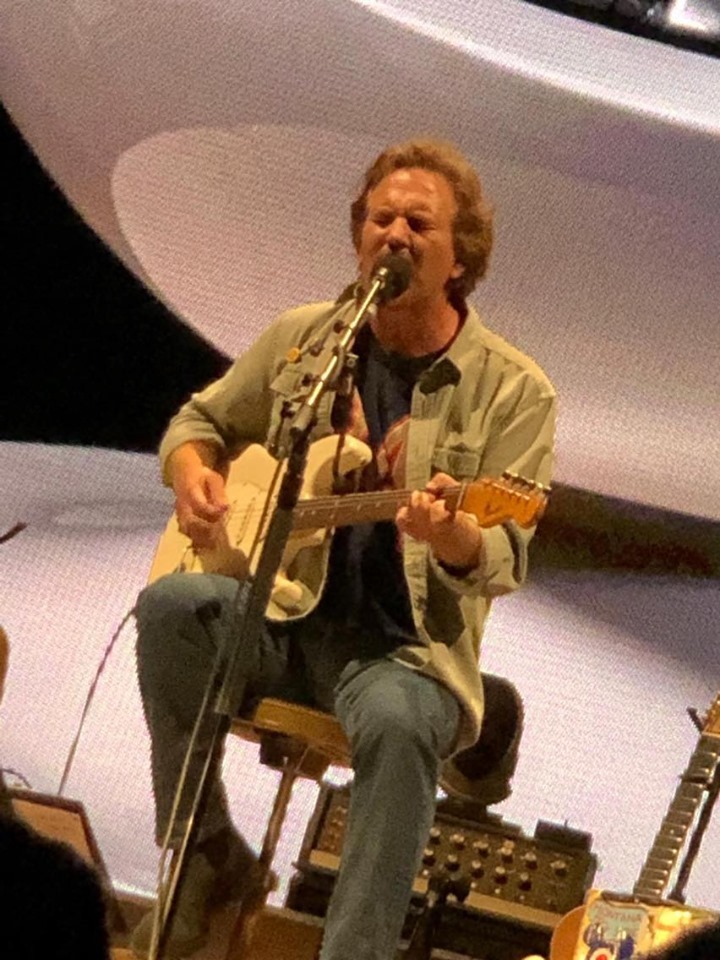 Red Limo String Quartet and Glen Hansard joined Eddie sometimes during the concert, which created new and mostly interesting versions of the songs. The audience was also a participant, which was especially heard and seen during Pearl Jam smash hits like Elderly Woman Behind The Counter In A Small Town, Black and Alive, which was played only by Red Limo String Quartet after a break and without Eddie – but we sang along pretty fine without him.
Eddie used the concert to pay tribute to a couple of people. Among them was Camilla from Red Limo String Quartet, who he said was a badass and really shouldn't be there considering she was eight months pregnant. He played the Tom Petty song Wildflowers and showed pictures of Tom and himself on the big screen behind him. Later he told us about R.E.M.'s final record, the impact it made, and he played the dark It Happened Today. He told us in an emotional tone, that he had to be away from his family, but we made it worth it. He continued by telling about his oldest daughter Olivia and how difficult it was to find a fitting name for her 15 years ago. "It's a lot easier naming an album," he told us. ""It's just a fucking avocado!"". He told us that Olivia is named after the olive tree and what it symbolizes, but also after Olivia Harrison, who was in attendance that evening. After that he showed us a picture of his daughter and played Beatles' Here Comes The Sun and later again Georges Harrison's Isn't It A Pity?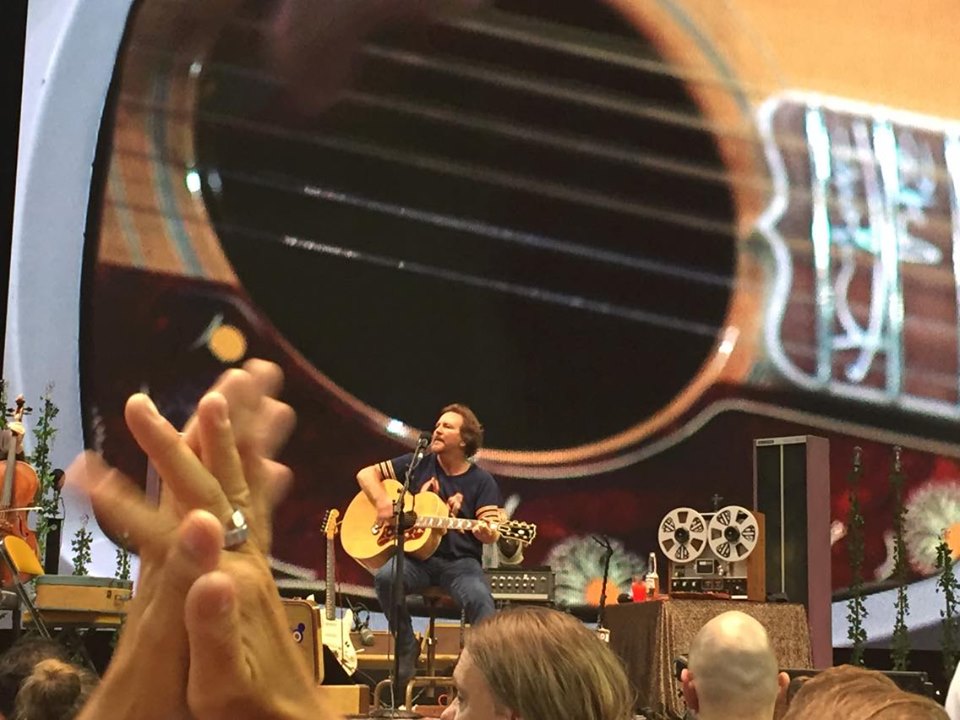 The acoustic arrangement called for more quiet songs like the super cute and almost lullabyish Sleepless Nights, where Eddie came down and greeted most of the audience on first row. But he also did more rocky songs, which in most cases worked surprisingly well like Corduroy, Lukin, Porch and of course Rockin' In the Free World as the final song. As an opposite Society was made more loud and punky than normal with help from Glen by his side, and it worked really well. One of the last songs Eddie played was the punk classic Should I Stay Or Should I Go by The Clash. I know he loves The Clash, but that song was the limit to how rock you can go when playing an (ukulele) acoustic concert. To me that was the low point of an otherwise wonderful Eddie Vedder concert.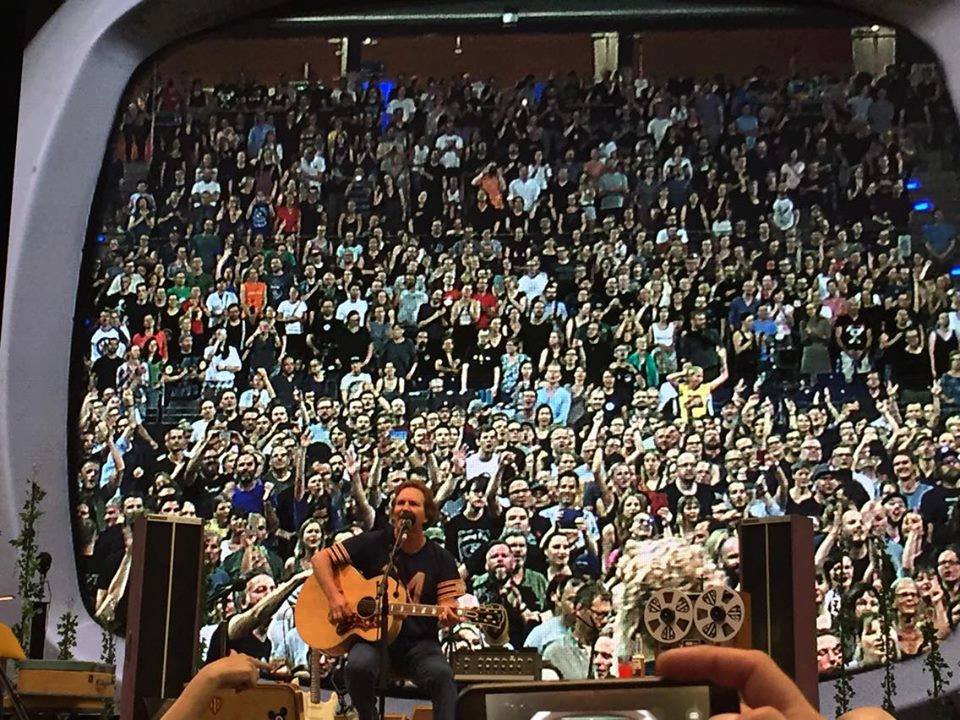 The concert ended with Hard Sun and Rockin' In The Free World, where Eddie's whole team joined him on stage dressed in white coats. Everyone in Max-Schmeling-Halle was on their feet with their arms up and sang along. We were sent off with a good portion of optimism and happiness, and I couldn't believe that 2 hours and 23 minutes had already passed.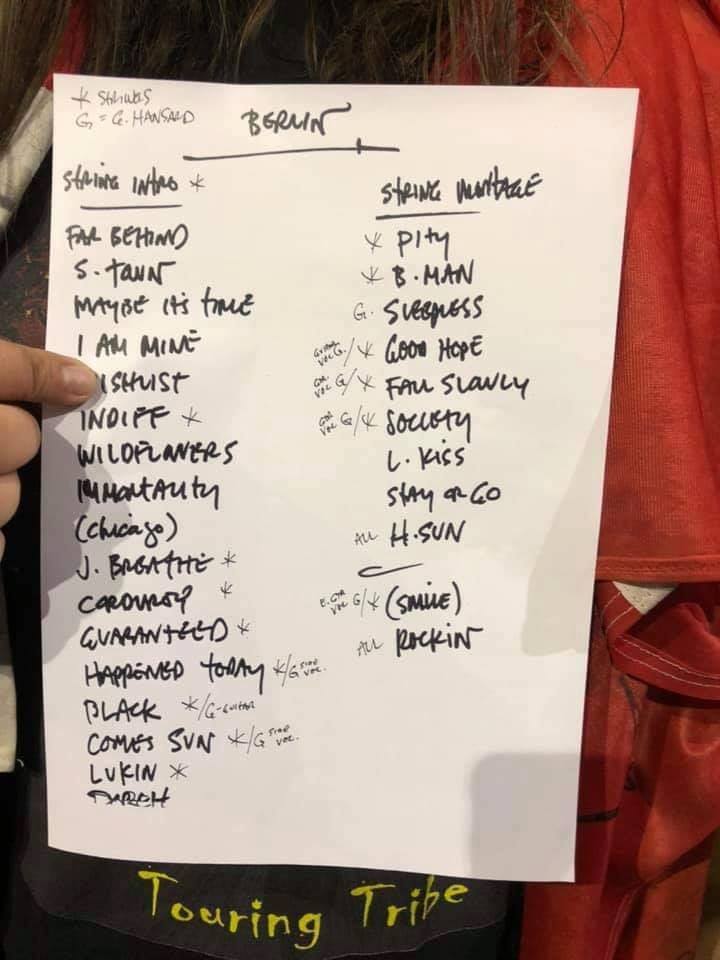 Afterwards I hung out near the tour buses behind a fence and waited for Eddie until I had to leave to get my Flixbus home to Denmark. Once again, I missed Eddie, because he later threw kisses and smiles at his fans from a hole in the roof of his car while leaving. Double bummer!
But I will have other chances. This wasn't my last Eddie or Pearl Jam concert. Obviously.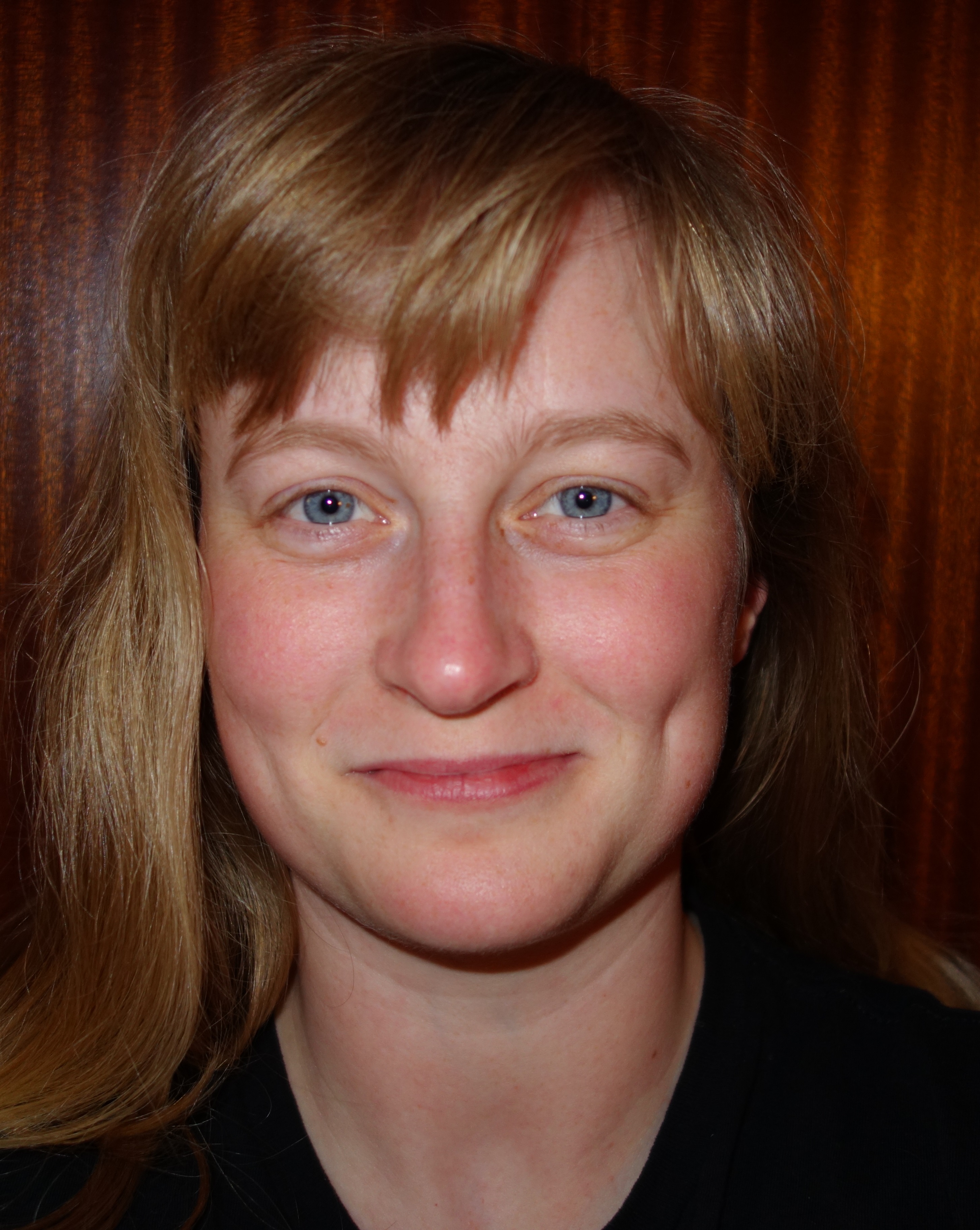 Danish contributor to Pearl Jam Nordic. Fan of Pearl Jam since 2015 where I saw the documentary Nine Rocks and heard Pearl Jam's music. I later wrote my master thesis about Nine Rocks and Henrik Tuxen's book In Pearl Jam's Footsteps. I have attended a couple of Pearl Jam and Eddie concerts around Europe, but can't wait to participate in more!